Instructors
The Alternative Art School is a new kind of art school reimagined for our connected world. We offer an online art school taught by world renowned artists and scholars from around the globe. We at The Alternative Art School believe in a form of art that grapples with the lived experience of being an artist from rent to work. Our instructors are all working professional artists and curators.
We believe in a form of art that allows a grappling with the lived experience of being an artist from rent to work. Rather than throwing a student out into the world hoping that the global landscape of business and art galleries takes them on, we want to equip them with the tools to consider and produce alternatives. The emphasis on the production and creation of alternative systems answers the call of a world let down by depending on the mainstream circuits of finance and power.
TAAS is unique in that our instructors are working artists with complex schedules; therefore you'll see amazing artists come, go, and return from semester to semester. Sign up for our newsletter below so you never miss when we open enrollment and announce our course line-up.

Not all instructors teach every session. See Courses for our current offerings and join our newsletter for early announcements who's teaching next session.
Do you have questions about our instructors? Reach out to us on our Contact page, we'd be happy to hear from you.
(TAAS is not taking applications for instructors at this time. If you're interested in teaching at TAAS we recommend you sign up for a class to be introduced to the ecosystem.)
Janine Antoni
Janine Antoni is a visual artist who was born in Freeport, Bahamas in 1964. She received a BA from Sarah Lawrence College and an MFA from the Rhode Island School of Design. Antoni has been featured in numerous international biennials including documenta14, the Venice Biennale, the Whitney Biennial, the Johannesburg Biennial, the Istanbul Biennial, the Kwangju Biennial, the Prospect.1 Biennial in New Orleans and the SITE Santa Fe Biennial. Antoni is the recipient of several prestigious awards, including a MacArthur Fellowship (1998), John Simon Guggenheim Memorial Foundation Award (2011), Creative Capital Grant (2012), and Anonymous Was A Woman Award (2014).
Her most recent major exhibition, I am fertile ground, was presented at The Green-Wood Cemetery, in Brooklyn, NY in 2019. Antoni currently resides in New York and is represented by Luhring Augustine Gallery, New York, and Anthony Meier Fine Arts, San Francisco.
Janine Antoni is known for her unusual processes. Her body is both her tool for making and the source from which her meaning arises. Antoni's early work transformed materials like chocolate and soap and used everyday activities like bathing, eating, and sleeping as sculptural processes. She carefully articulates her relationship to the world, giving rise to emotional states that are felt in and through the senses. In each piece, no matter the medium or image, a conveyed physicality speaks directly to the viewer's body.
You can visit Janine Antoni's personal art website at: http://www.janineantoni.net/
Mark Dion
Mark Dion, a prominent American conceptual artist, is widely recognized for incorporating scientific presentations into his installations. His thought-provoking work delves into how dominant ideologies and institutions shape our perception of history, knowledge, and the environment.
Mark Dion was born in New Bedford, Massachusetts in 1961. He received a BFA (1986) and an honorary doctorate (2003) from the University of Hartford, Hartford Art School, and attended the Whitney Museum of American Art's Independent Study Program. Dion received the ninth annual Larry Aldrich Foundation Award (2001), The Joan Mitchell Foundation Award (2007), the Smithsonian American Art Museum's Lucida Art Award (2008), and a Guggenheim Fellowship (2019)
Dion's work examines the ways in which dominant ideologies and public institutions shape our understanding of history, knowledge, and the natural world. Appropriating archaeological, field ecology, and other scientific methods of collecting, ordering, and exhibiting objects, Dion creates works that question the distinctions between 'objective' ('rational') scientific methods and 'subjective' ('irrational') influences. Mark Dion also frequently collaborates with museums of natural history, aquariums, zoos, and other institutions mandated to produce public knowledge on the topic of nature.
Dion's works include Follies at Storm King Art Center (2019); Theatre of the Natural World at the Whitechapel Gallery, London (2018); Misadventures of a 21st Century Naturalist at the Institute of Contemporary Art Boston (2017); Mark Dion: The Academy of Things at The Academy of Fine Arts Design in Dresden, Germany (2014); The Macabre Treasury at Museum Het Domein in Sittard, The Netherlands (2013); Oceanomania: Souvenirs of Mysterious Seas at Musée Océanographique de Monaco and Nouveau Musée National de Monaco / Villa Paloma in Monaco (2011); The Marvelous Museum: A Mark Dion Project at Oakland Museum of California (2010–11); Systema Metropolis at Natural History Museum, London (2007); The South Florida Wildlife Rescue Unit at Miami Art Museum (2006); Rescue Archaeology, a project for the Museum of Modern Art (2004); and his renowned Tate Thames Dig at the Tate Gallery in London (1999).[2]
You can watch Mark's visiting Artist Talk on our Youtube, and check out Art21's interview with him.
Raqs Media Collective
Raqs Media Collective was formed in 1992 in Delhi, India by Monica Narula, Jeebesh Bagchi, and Shuddhabrata Sengupta. Raqs practices across several forms of media: installation, sculpture, video, performance, text, curation, and lexica. In 2000, they co-founded the Sarai program at CSDS, New Delhi. Their works are part of several contemporary art collections and have been exhibited at numerous international art fairs. Their essays have been widely published.
Gridthiya "Jeab" Gaweewong
Gridthiya "Jeab" Gaweewong is the Co-founded an independent art organization, Project 304 in 1996 after receiving her MAAA (Master of Arts in Administrations) from the School of the Art Institute of Chicago. Gaweewong is currently the artistic director of the Jim Thompson Art Center, Bangkok. Her curatorial projects have addressed issues of social transformation confronting contemporary artists from Southeast Asia and beyond since the Cold War. Recently, she served as the curatorial team of the 12th Gwangju Biennale, South Korea, and curated the exhibition Facing Phantom Borders (2018).
Nato Thompson
Nato Thompson is an author, curator, and what he describes as "cultural infrastructure builder". He has worked as Artistic Director at Philadelphia Contemporary, Creative Time, and MASS MoCA. Thompson organized major Creative Time projects including The Creative Time Summit, Kara Walker's "A Subtlety", Trevor Paglen's "The Last Pictures", and Paul Ramírez Jonas's "Key to the City", among many others. Nato Thompson was the Artistic Director of Philadelphia Contemporary, an "independent and free-standing, a venue that celebrates the abundance of genre-bending, multidisciplinary practices that make up the field of contemporary art" founded in 2016. He was previously the Chief Curator and then Artistic Director at Creative Time in New York, where his exhibitions and projects included Paul Chan's production of "Waiting for Godot" in post-Katrina New Orleans, which included free public performances of Samuel Beckett's play, theatre workships, educational seminars, and more. Other major projects at Creative Time included Kara Walker's A Subtlety, and the itinerant Creative Time Summits.
Thompson began his career as a curator at MASS MoCA, where he completed numerous large-scale exhibitions such as The Interventionists: Art in the Social Sphere, a survey of political art of the 1990s. His writings have appeared in numerous publications including Art Journal, Parkett, Cabinet, and The Journal of Aesthetics and Protest. He is the author of several books and catalogues, including Seeing Power: Art and Activism in the 21st Century (2015) and Culture as Weapon: The Art of Influence in Everyday Life.
Nato Thompson earned an MA in Arts Administration & Policy in 2001, and also holds a BA in Political Theory from the University of California at Berkeley.
He has written two books,
Seeing Power: Art and Activism in the Twenty-first Century. and Culture as Weapon founded the Alternative Art School and ArtW rld in 2020.
Cassils
Cassils is a transgender artist who makes their own body the material and protagonist of their performances. Cassils's art contemplates the history(s) of LGBTQI+ violence, representation, struggle, and survival. For Cassils, performance is a form of social sculpture; drawing from the idea that bodies are formed in relation to forces of power and social expectations, Cassils's work investigates historical contexts to examine the present moment.
Trevor Paglen
Paglen's work has been shown at Nam June Paik Art Center, Seoul; Museo Tamayo, Mexico City; Frankfurter Kunstverein; Protocinema Istanbul; the Metropolitan Museum of Art; the San Francisco Museum of Modern Art; the Tate Modern; and numerous other venues. He has collaborated with Creative Time and MIT, contributed research and cinematography to the Academy Award-winning film Citizenfour, and created a radioactive public sculpture to be exhibited in Fukushima, Japan.
Guadalupe Maravilla
Guadalupe Maravilla is a visual artist, choreographer, and healer. As an acknowledgment of his own migratory past, Maravilla grounds his practice in the historical and contemporary contexts of immigrant culture, particularly those belonging to Latinx communities. His work is in the permanent collections of the Museum of Modern Art, the Whitney Museum of American Art, Museo Nacional Centro de Arte Reina Sofía, and the Institute of Contemporary Art.
Marinella Senatore
Trained in music, fine arts, and film, Marinella Senatore's practice is characterized by public participation, initiating a dialogue between history, culture, and social structures. Senatore's work merges forms of protest, theatre, oral histories, dance, music, public ceremonies, civil rituals, and mass events, reflecting on the political nature of collective formations and their impact on the social history of places and communities. Her work has been exhibited widely throughout Italy and abroad.
Yael Bartana
Yael Bartana's films, installations, and photographs explore identity imagery through political imagination. Her work focuses on ceremonies, public rituals, and social diversions that are intended to reaffirm the collective identity of the nation-state. Her work has been shown at the Jewish Museum, Berlin; Philadelphia Museum of Art; Musée cantonal des Beaux-Arts; Sommer Contemporary Art, Tel Aviv; Petzel Gallery, New York; 54th Venice Biennale, and more.
Rirkrit Tiravanija
Rirkrit Tiravanija, born in Buenos Aires in 1961, is best known for his intimate, participatory installations that revolve around communal traditions. He has continually challenged the social dimension of art, inviting people from all walks of life to inhabit the special and personal spaces that he constructs. Through his real-time experiences, Tiravanija often addresses broader social and political concerns that go largely unaddressed in Western media.
Jeremy Deller
London-based artist Jeremy Deller studied Art History at both the Courtauld Institute and at Sussex University. He has been producing projects over the past two decades and has exhibited extensively worldwide with selected solo exhibitions including: 'The Infinitely Variable Ideal of the Popular', 55th Venice Biennale, Venice; 'It Is What It Is: New Museum, New York; 'Procession', Cornerhouse, Manchester; 'Unconvention', Centre for Visual Arts, Cardiff, and many more.
Mario Ybarra Jr.
Mario Ybarra Jr. (1973), a Mexican-American conceptual artist, was born and raised in Los Angeles. His artwork examines and investigates environments, histories, and narratives. He received an MFA from the University of California Irvine and a BFA from Otis College of Art and Design. He has been featured in many national and international exhibitions and has spoken at worldwide venues including the Creative Summit in New York and Art Pace San Antonio.
Kenneth Bailey
Kenneth Bailey is the co-founder of the Design Studio for Social Intervention. His work focuses on the development of design tools for marginalized communities. With over three decades of experience in community practice, Bailey brings a unique perspective to the ethics of design in relation to community engagement, the arts, and cultural action. His projects include Public Kitchen (2011-2018), People's Redevelopment Authority (2018), and inPUBLIC (2019).
Pier Luigi Sacco
Pier Luigi Sacco, Ph.D., is Senior Advisor to the OECD Center for Entrepreneurship, SMEs, Regions, and Cities, Associate Researcher at CNR-ISPC Naples, and Professor of Economic Policy at the University of Chieti-Pescara. He works and consults internationally in cultural planning, community-based projects, and culture-led local and national development strategies, and is often invited as the keynote speaker for major cultural policy conferences worldwide.
Theresa Rose
Theresa Rose lives and works in her beloved hometown, Philadelphia, PA, as an artist, educator, and arts organizer. Rose's mixed-media works on paper pay tribute to the complex beauty found in the urban environment. Her curatorial work equally uses the urban landscape as a site for play and social possibility. Rose earned a BA in Art Education from Tyler School of Art, Temple University, and MFA from the Pennsylvania Academy of Fine Arts.
Amber Imrie
Amber Imrie is a queer artist, art educator, and founding team member of The Alternative Art School. She received her BA from UC Berkeley and MFA from Stanford University. She's been the recipient of many awards, fellowships, and residencies including the Murphy Cadogan Award and Anita Squires Fowler Award in Photography. Imrie has taught at a variety of institutions, and, Since 2020, has worked alongside Nato Thompson building the Alternative Art School.
Zoe Butt
Zoe Butt is a curator and writer based in Vietnam. Her curatorial practice centers on building critically thinking and historically conscious artistic communities, fostering dialogue among countries of the global south. She is currently Artistic Director of the Factory Contemporary Arts Centre, Ho Chi Minh City, Vietnam's first purpose-built space for contemporary art. She is also a member of the Asian Art Council for the Solomon R. Guggenheim Museum in New York.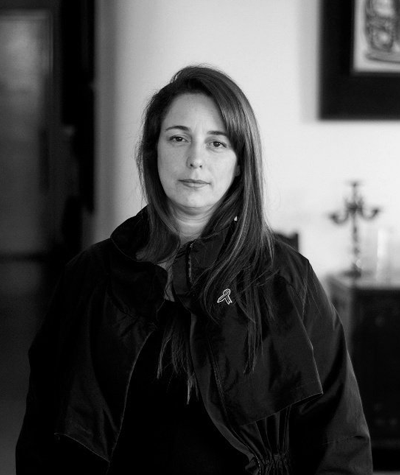 Tania Bruguera
Tania Bruguera (1968, Cuba) is an artist and activist whose performances and installations examine power structures and their effect on society's most vulnerable people. Her long-term projects scrutinize the institutional structures of collective memory, education, and politics. Bruguera has received many honors such as the Robert Rauschenberg Award, a Guggenheim Fellowship and a Prince Claus Fund Laureate. Her work has been extensively exhibited worldwide.
Hito Steyerl
Hito Steyerl is a filmmaker, visual artist, writer, and pioneer of the essay documentary. Her prolific filmmaking and writing occupies a highly discursive position between the fields of art, philosophy, and politics, constituting a deep exploration of late capitalism's social, cultural, and financial imaginaries. Her films and lectures have addressed the presentational context of art, while her writing has circulated widely through publication in both academic and art journals.
Mel Chin
From 1995-1998, Mel Chin spearheaded the Gala Committee, a collective that produced the public art project "In the Name of the Place", conducted on American prime-time television. In 2018 he filled New York's Times Square with "Wake", on the ground, and "Unmoored" in the air; two pieces that transported viewers into a past maritime industry and a future of rising waters. He is the recipient of many awards, grants, and honorary degrees including a 2019 MacArthur Fellowship.
Mia Yu
Mia Yu is a Beijing-based art historian, curator, and educator. She was the winner of the Yishu Award for Critical Writing on Contemporary Art (2018), the recipient of the Tate Asia Research Travel Fellowship (2017), and the CCAA Art Critic Award (2015). She is on the jury committee for the Hyundai Blue Prize For Emerging Curators. As an adjunct professor, she has lectured at China Art Academy, China Central Art Academy, Xi'an Art Academy, and Peking University.
Carlos Motta
Carlos Motta is a multi-disciplinary artist whose work draws upon political history in an attempt to create counter-narratives that recognize the inclusion of suppressed histories, communities, and identities. Motta's work has been presented internationally at venues such as The New Museum, The Guggenheim Museum, New York; Institute of Contemporary Art, Philadelphia; Museo de Arte del Banco de la República, Bogotá, and many more.
Ahmet Öğüt
Ahmet Öğüt lives and works in Amsterdam and Istanbul. An internationally renowned conceptual artist, Öğüt consistently seeks out collaborators from outside of the art world, finding unique ways to grapple with complex social issues. He works across different media and has exhibited widely, including solo exhibitions at Wei-Ling Contemporary, Van Abbemuseum, Kunsthal Charlottenborg, Chisenhale Gallery; Berkeley Art Museum; and Kunsthalle Basel.
Tiago Gualberto
Tiago Gualberto is an Afro-Brazilian visual artist and researcher whose work surrounds themes such as the relationship between memory and history, the social uses of language, and narrative erasure. He has focused his artwork on questioning his place and identity as a visual artist, reflecting on the historical perpetuation of exclusion and violence forced upon people with whom he relates. He maintains a deep interest in the politics of overcoming barriers in Brazil for artists.
Miguel A. López
Miguel A. López is a writer, researcher, and Chief curator of TEOR/éTica in San José, Costa Rica. He is co-founder of the independent art space Bisagra, active in Peru since 2014. In 2016, he received the Independent Vision Curatorial Award from Independent Curators International (ICI), New York. His work focuses on queer re-articulations of history from a Southern perspective. He has published in periodicals such as Art in America, Art Journal, and The Exhibitionist, among others.
Daniel Meir
Daniel Meir is a Tel Aviv-based sound designer and artist, specializing in sound design and original music for video art, documentaries, film, and theater. He has worked with critically acclaimed video artists, filmmakers, and musicians from around the world. He has collaborated on works that have been featured in the Venice Biennale, Academy Awards nominated films, and a Cannes Festival-winning film. His work can be heard daily in cinemas, museums, and exhibitions worldwide.
Vashti DuBois
Vashti DuBois founded The Colored Girls Museum in 2015, to "honor the stories, experiences, and history of Colored Girls throughout the African Diaspora." It is the first memoir museum of its kind. TCGM initiates the ordinary object, submitted by the colored girl herself, as a representative of an aspect of her story and personal history which she finds meaningful. DuBois' 30-year career in non-profit and arts administration has focused primarily on issues impacting girls and women of color.
Aaron Gach
Aaron Gach's diverse artistic practice consistently addresses public concerns, social politics, and power dynamics. He established the Center for Tactical Magic in 2000, dedicated to the coalescence of art, magic, and creative tactics for encouraging positive social change. His work has been presented by International institutions, including the San Francisco Museum of Modern Art; Museo de Arte Contemporaneo de Vigo, Spain; and Deutsches Theater, Berlin.
Michael Clemmons
Michael Clemmons is the curator at The Colored Girls Museum and the director of Temple University's Center for Community Partnerships and Development. With 30 years of experience in community engagement and project development, Clemmons builds and coordinates strategic partnerships. In his art practice, Clemmons creates mix-media paintings, ceramic sculptures, and installations, referencing timeless landscapes, West African, and personal iconography.